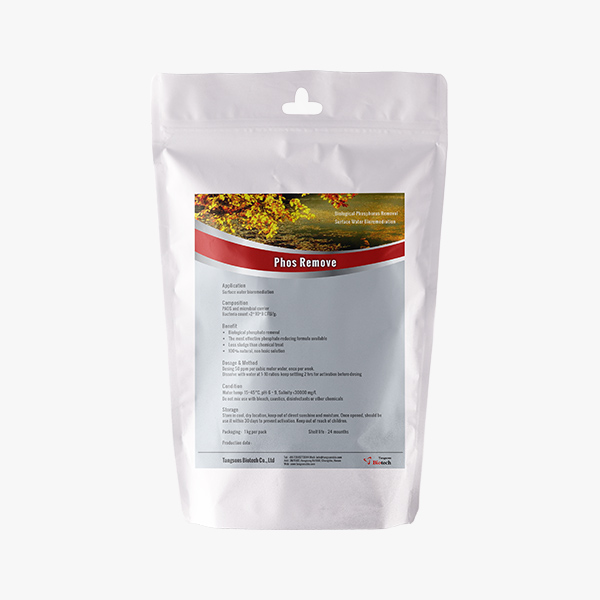 Phos Removal
biological phosphorus removal
Phos Remove are a group of bacteria that, under certain conditions, facilitate the removal of large amounts of phosphorus from wastewater in a process, called enhanced biological phosphorus removal (EBPR)
Unique biological formulation that is chosen for 100 % green technology to rapidly remove phosphorus to maintain surface water quality. Contact Us for Phosphorus Remove From Water or Biological Phosphorus Removal products.


│

Inquiry Now
Application

Municipal and private sewage

Industrial wastewate treatment

Surface water remediation

Pond Management
Benefit

Biological phosphate removal

The most effective phosphate-reducing formula available

Less sludge than chemical treat

100% natural, non-toxic solution
How does it work

The basic principle of biological phosphorus removal is to expose bacteria to alternating anaerobic and aerobic conditions to promote "luxury uptake" of phosphorus. Under anoxic to anaerobic conditions, phosphorus accumulating organisms (PAO) have the ability to take in organic substrate. In order to obtain the energy to incorporate the organic substrate into the microbial cell under anaerobic conditions, the bacteria releases phosphorus into the wastewater. When aerobic conditions are restored, the organic substrate taken in is converted to energy and cell mass. This allows the bacteria to take in phosphorus then needed to fulfill its nutrient needs.
Case Study For Biological Phosphorus Remove

Discover how do we use Phos Removal in pharmaceutical industrial wastewater for biological phosphorous remove. Read More
Tangsons Biotech is Here with the Best Solutions to Remove Phosphorus from Water

Our Tangsons Biotech brand is the first to bring out natural microorganisms to work on wastewater problems which also includes phosphorus remove from water. We do our best to provide low-cost biotech products for people who are buying costly less effective wastewater products that use chemicals. We have established ourselves as one of the best suppliers of phos removal products and other products like Soil Vigor, Soil Fertil, Soil Activar, Trianum Shield, Nema Pro, Trianum V, Myco Pestop, Chitosan Gro, Phos Activator, Seeds Coating, Aerobic Bacteria, Anaerobic Bacteria, Nitrobacter, Denitrifying Bacteria, Nitrifying Bacteria variants.

Our phosphorus remove from water solutions has been tested a lot of times and adequate adjustments have been made to judge out any kind of after-effects. If you are looking for quality Phos removal variants in china, then look no further. Our Tangsons Biotech is one of the best suppliers of wastewater solutions in the world at low-cost prices.
Information is being submitted, please wait...