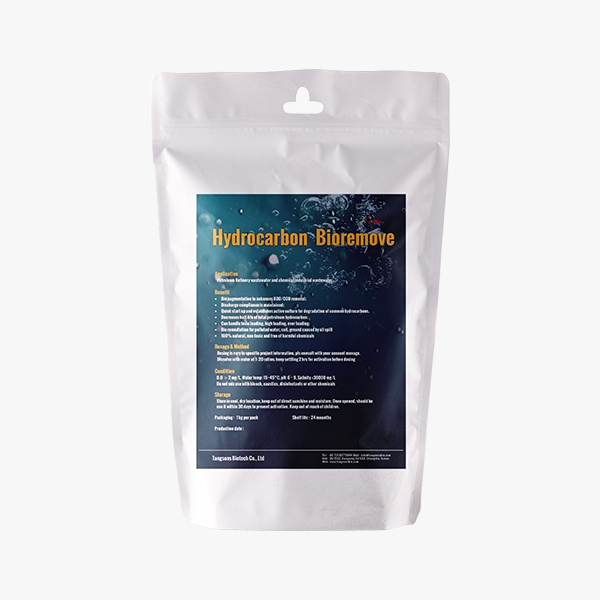 Hydrocarbon Bioremove
Special for PRW, Effective to reduce COD & BOD by biodegradation of hydrocarbon, phenol & keto-aldehyde resin & surfactant
Hydrocarbon Bioremove is a unique blend of different bacteria strains used to effectively degrade both aromatic and aliphatic hydrocarbons. Hydrocarbon Bioremove reinforces or augments the natural biological process. It uses a bioremediation approach to aid in the degradation of the various pollutants found in the water supply by becoming the dominant force within water and soil systems.


│

Inquiry Now
Application

Petroleum Refinery wastewater

Chemical industrial wastewater

Oily wastewater

Oil spill remediation
Benefit

Bio augmentation to enhances BOD/COD removal;

Discharge compliance is maintained;

Quick start up and establishes active culture for degradation of common hydrocarbons.

Decreases half-life of total petroleum hydrocarbon;

Can handle toxic loading, high loading, over loading;

Bio remediation for polluted water, soil, ground caused by oil spill

100% natural, non-toxic and free of harmful chemicals
Best Hydrocarbon Degradation Products Available in China

We at Tangsons Biotech have world-class technological production strategies to bring quality grade hydrocarbon degradation products for you. Our innovation tactics are supervised and backed up by the expertise of experienced industry experts and biologists. Our production line has a lot of products like Agriculture products including Sustainable Soil Fertility, Non-Residue Crop Protection, Optimal Growth Management, and Animal Husbandry products like Feed Probiotics Solution, Manure Composting, Odor Management and also Bacteria supplies like Bacillus, Lactobacillus, Trichoderma bacteria variants.

Our brand's expertise in hydrocarbon degradation is initiated right from our research labs and we have perfected the solution using naturally grown bacteria. We at Tangsons Biotech design high-quality hydrocarbon degradation solutions along with products that are effective both on aromatic and aliphatic hydrocarbons found in wastewaters. If you are looking for similar products, well, Tangsons Biotech is here for you with all kinds of degradation chemicals and natural products at low-cost prices.
Information is being submitted, please wait...